Sam Bennett & The Product team:
A LOVE STORY ABOUT SPEED
"INNOVATION COMES FROM ASKING DIFFERENT QUESTIONS." 
Rob Cook, Design Director
The biggest breakthroughs never follow a predictable script. Unexpected challenges, mysterious discoveries, and countless hours spent chasing ideas that aren't guaranteed to work out are all part of the process. But if you always ask the same questions, you'll never get a different answer. It's this philosophy that led to the creation of Body Geometry two decades ago—identify a problem, solve it through design, then validate it by science. It's that quest to unlock new possibilities to improve performance, reduce the risk of injury, and increase comfort that led our design team to the S-Works Ares. And speaking of locks, that's what the Ares is all about: a locked-in fit that delivers power transfer worthy of Pro Tour sprints, without compromising on the all-day comfort needed to arrive at the red kite ready to pounce.
First things first:
BODY GEOMETRY
While Body Geometry began with saddles, we knew this philosophy could solve problems for riders at every touch point, so we turned our attention to shoes. We looked at the issues affecting riders, like numbness, pedaling stability, and arch collapse, and worked on solutions through design.
Our in-house design team pioneered three different features to solve these issues. It starts with the Varus Wedge, a 1.5mm outward tilt to the outsole stabilizes the forefoot and helps align the ankle, the knee, and hip. We prevent arch collapse with our patented Longitudinal Arch molded into our outsoles, which can be personalized with three different arch height insoles. Riders can take this to next level with our custom footbeds. Finally, we battle hot spots and numbness with our Metatarsal Button, ensuring the delicate nerves and arteries in your foot are protected by separating the bones of the forefoot. We had all the pieces lined up, now we had to innovate with closure and support.
A LONG LEADOUT
The journey to create the fastest Body Geometry shoes in history started in 2011, working with Mark Cavendish, and progressed over the next 10 years as we tested designs with Mark, Marcel Kittel, and most recently, in close partnership with Sam Bennett. Each step of the way, we were seeking the ultimate connection of the foot to the pedal, under the most extreme, out-of-the saddle efforts. "We were trying to adapt our existing shoes to serve their needs, but with limited success," says Rob Cook, Design Director for footwear. "So we knew we needed to build something specific. Once we went in that direction, we cut ourselves free to really focus on serving the key needs for that type of rider."  
Ultimately, it was Bennett's clinical attention to detail and willingness to dig into the process that led to new realizations and fresh approaches. "My shoes are probably the most important piece of equipment to me," says Bennett. "I'm super sensitive to change and I take hours to set up my cleats, down to the millimeter." The team sent him out with prototype after prototype, each evolving with input from Sam and explorations in the lab.  
WORKING WITH SAM BENNETT  
Turns out that a meticulous data fan like Bennett was the perfect development partner. "Sam was amazingly focused on giving feedback," says Cook. "At our first meeting, I was expecting to spend 30 min with him. We spent an hour and half, just talking about sprinting, and shoes, and his thoughts on them. The information he shared was just incredible." It was Bennett's input about the balance between a secure fit and race-long comfort that helped spur the team to jettison old thinking and approach the shoe from a new perspective. "We started from scratch, not thinking about the closures, and focusing on what the rider wants to feel against their foot," says Cook. Those explorations led them to an entirely new upper design, eliminating the traditional tongue in favor of a Dyneema®-reinforced sock liner, combined with a repositioned closure that was game-changing.  
LOCKED IN TO THROW DOWN
"Hearing Sam talk about the movements of his foot in his shoe, we were focused on how we could address that," says Cook. That focus paid off. Moving the BOA® Fit System
on the shoe meant reduced pressure on the tendons across the top of the feet, eliminating a long-term issue for Bennett and creating an entirely new way to look at the intersection of security, power transfer, and comfort. For Bennett, the combination was a clear winner, "I have such sensitive feet, so I'm really aware of the pressure points," he says. "To be able to get strapped down and deliver all the power I need, in comfort—to get both stiffness and comfort—that's unique. This is a next step in delivering that pairing."  
WHAT FEELS FAST, GOES FAST
When all the pieces of the Ares fit into place, the shoe's design was as notable as its performance. "We really dug into the idea of a rider feeling as connected as possible to the shoe," says Ashley Sult, the footwear developer on the project. "And that extended into the form. We wanted it to exude a raw, powerful feel." Looks aren't just about looks after all. If a shoe doesn't look strong, riders won't trust it. Hell, some won't even try a shoe that doesn't pass the visual test. "When it comes to the mental aspect of racing," says Sult, "a rider's relationship to their equipment is a true performance benefit." Bennett's thoughts on his footwear echo the idea, "I love when I look at something and I see the design in it, when I can see how it works. I really appreciate that."  
A DESIGN THAT IS 1% FASTER
As important as a shoe's appearance may be to a rider's mindset, to earn the Body Geometry name, a shoe's benefits need to be validated by science and that's where Todd Carver comes in, the Head of Human Performance at Specialized. We already understood how aligning the foot, knee, and hip improved power delivery significantly, but we weren't satisfied, we wanted more. Todd and team began an exhaustive testing program around multiple closure architectures at peak power efforts to pinpoint the most effective system. Then they used pressure mapping to better understand where the 1% improvement they saw came from with the S-Works Ares innovative closure layout. ''It does a great job holding the top and mid-foot. And this allowed for the forefoot closure to become a reality based on pro-rider feedback. This really gives a whole-foot closure and the research would say that is where the final 1% improvement comes from," says Todd.
BEYOND THE PELOTON 
For the footwear team, the focus was 100 percent on pushing the limits to unlock a new solution for their sprinters and high-output riders like Bennett and Alaphilippe. "I love working with the athletes," says Sult. "I love solving problems. So, I'm incredibly excited to have something coming to life that's so athlete focused." But even Bennett could see how the shoe would find its place beyond the wattage machines of the pro tour, "At the beginning, I wasn't thinking about the Ares working for different types of riders," he says. "But then as the shoe developed in the process, it became clear that it would be so naturally comfortable for anyone." It may take a special combination of skill, speed, and power to cross the line first in the Grand Tours, but all it takes to appreciate the S-Works Ares and Body Geometry design is a desire to push your own limits.  
MEET THE TEAM BEHIND THE DEVELOPMENT OF S-WORKS ARES
Associate Product Manager
Danielle Audino
Human Performance Manager
Todd Carver
Footwear Director
Nick Gosseen
Senior Graphic Designer
Albert Phan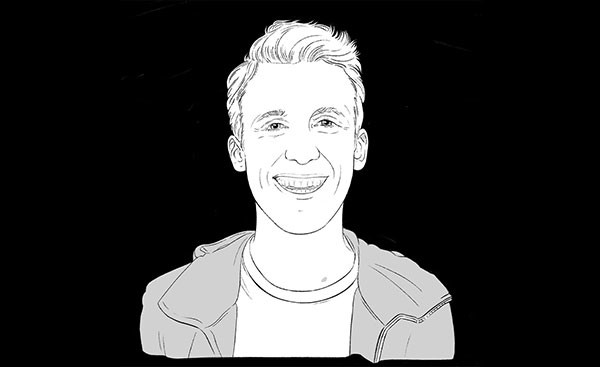 Product Manager
Stephen Quay
Footwear Developer
Ashley Suit
Bicycle Racer
Justin Williams